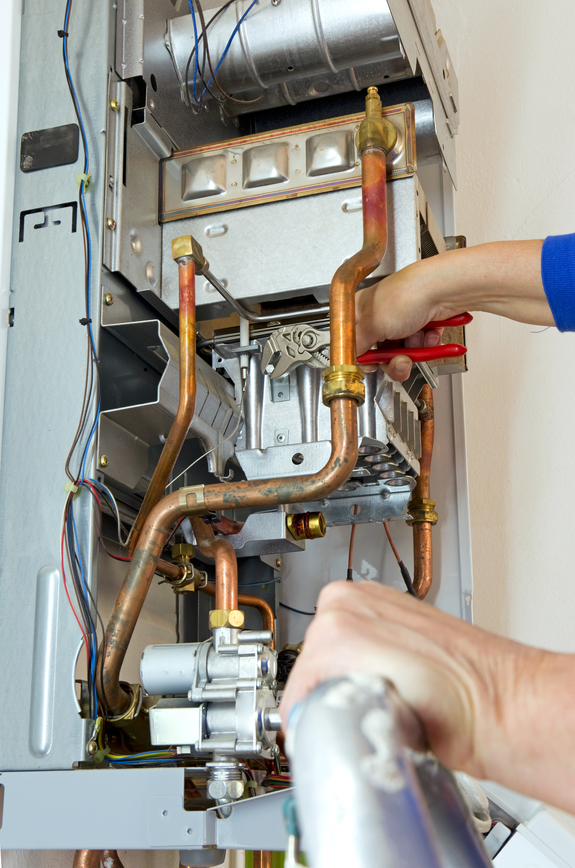 GSCL has registered gas safe engineer to do cheap boiler services. Call us now for any type of boiler service.
A boiler service will include of a full check of a gas boiler. The engineer will assess the physical condition of the boiler, installation pipework, air vents and any flues for wear and tear. They will carry out performance tests and take any necessary remedial action.
'A faulty boiler can be extremely dangerous, increasing the risk of carbon monoxide poisoning. It's therefore best to get your boiler serviced every year to make sure it's working properly'
What will happen during your annual boiler service?
A visual check to ensure your boiler still meets current standards
.
Boiler fired to identify any working faults
.
Boiler casing removed to check all main boiler components (burner, heat exchanger, main injector, spark/sensor probe).
Checks to ensure flue terminals are unobstructed and internal flue components are sealed properly.
Gas valve adjusted to check that burner is combusting efficiently and properly (normally using a flue gas analyser).
Inside casing surfaces cleaned
Boiler parts cleaned if necessary.
Gas tightness test conducted to ensure no leaks
Boiler casing put back on – check that properly sealed.
You should receive a service report that shows everything the engineer has done to maintain your boiler.
Landlord's responsibilities:
If you let a property with gas appliances you have three main responsibilities:
1. Maintenance: pipework, appliances and flues must be maintained in a safe condition. Gas appliances should be serviced in accordance with the manufacturer's instructions. If these are not available it is recommended that they are serviced annually unless advised otherwise by a Gas Safe registered engineer.
2. Gas safety checks: a 12 monthly gas safety check must be carried out on every gas appliance/flue. A gas safety check will make sure gas fittings and appliances are safe to use.
3. Record: a record of the annual gas safety check must be provided to your tenant within 28 days of the check being completed or to new tenants before they move in. Landlords must keep copies of the gas safety record for two years.
All installation, maintenance and safety checks need to be carried out by a Gas Safe registered engineer.
Our Price List for some well known boiler services:
Vaillant boiler service from…………… £60
Idea boiler servicing from……………….. £75
Duval Saunier Duval boiler services from……….. £90
Worcester boiler service from……….. £80
Keston boiler service from…………… £75
Main boiler servicing from………………. £75
Please visit Gas Certificates.
Boiler Service only from £60, Call us now.