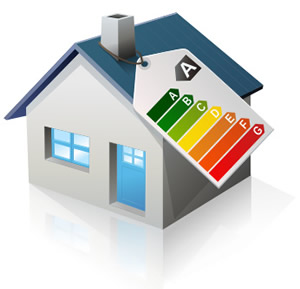 EPC Certificate from £65.
The best EPC certificate provider for residential and commercial property. An Energy Performance Certificates (EPC) is the Government's chosen way of complying with the Energy Performance of Building Directive (EPBD). Its purpose is to record how energy efficient a property is. The certificate will provide a rating of the energy efficiency and CO2 emissions of a building from A to G, where A is very efficient and G is very inefficient.
Who Needs An EPC?.

From 21/05/2010 any property that is marketed for sale or put up for rent in England and Wales will need an EPC.
Selling a Property
UK laws state that anyone selling a residential property is required to have ordered an EPC by the time a property goes on the market.
All agents are required to have uploaded a full Energy Performance Certificate within 28 days of marketing.
Preparation for the EPC assessment:
The Assessor will need to know several details about the property to carry out an accurate assessment.
The checklist
The year the property was built in, you can find this out by looking at your deeds.
If any extension or alterations have been made to the property
Is the property double glazed and any supporting certificates
Information about wall cavities and any other insulation
Boiler and hot water cylinders with year of installation and and any manuals
The room the thermostats and heating timers are located in
The location of the gas and electricity meters
The heating fuel used to heat the property
The Assessor will record the information and will input the assessment details into the lodgement.
Need more information visit: Energy Performance
Renting a Property
Our current laws state that every Landlord must have an Energy Performance Certificate available for the information of any prospective tenant.
On Construction or "New Build" EPC Certificate.
This is a separate EPC certificate required for the completion of Building Regulations. The assessment is made from information taken from the architects plans and does not require a visit.
We offer Home Owners, Landlords and Estate Agents, Government approved Energy Performance Certificates and a guarantee to complete all instructions within 48 hours.
Whether you are a Homeowner, Landlord or a Commercial Property Owner, Just EPC offer a speedy and cost effective way of obtaining your EPC Certificate.
Domestic / residential EPCs from £45 for 1 bedroom property.
Landlord EPC Certificate from £45 for 1 bedroom property
Residential EPC Certificate from £65 for 2 to 3 bedroom property.
Commercial EPCs from £145
Other services we offer:
Property Inventory
Domestic EPC (Certificate) Start From £45 only.